Project Management
Hong Kong & Shenzhen,Manufacturing affiliated trading companies, 50 staff
Hong Kong & Shenzhen,Manufacturing affiliated trading companies, 50 staff
Monitoring the timely progress of project activities
Customer Challenges

To facilitate internal communication to speed up and improve the efficiency of your business

1

Time lag in internal communication may lead to shipping delays. Errors in custom-clearance documents cause shipping delays, resulting in a chain reaction of delays and/or omission of invoicing to head office.

2

Returned goods and discount priced goods are managed manually, so input to the accounts system is usually delayed.

3

Difficult to manage outstanding orders due to the input of invoice and sales information, both manually and separately. It is possible to analyze sales results only after the monthly closing process.

4

Manual handling of complicated outsourced products such as samples and semi-finished products.

Our Suggestion
Deploying the project management system to provide, when needed, sufficient progress information about the project.
1

Ability to trace progress information smoothly and adapt project management functions, reducing shipping delays caused by incomplete documentation.

2

The system can generate various documents, such as discount vouchers, without inputting duplicated order information.

3

Various kinds of business data, such as outstanding orders and sales, can be obtained from the system.

4

The system keeps order information of products, such as samples and metal molds. Various progress checking functions are also available.
Building a tailored project management system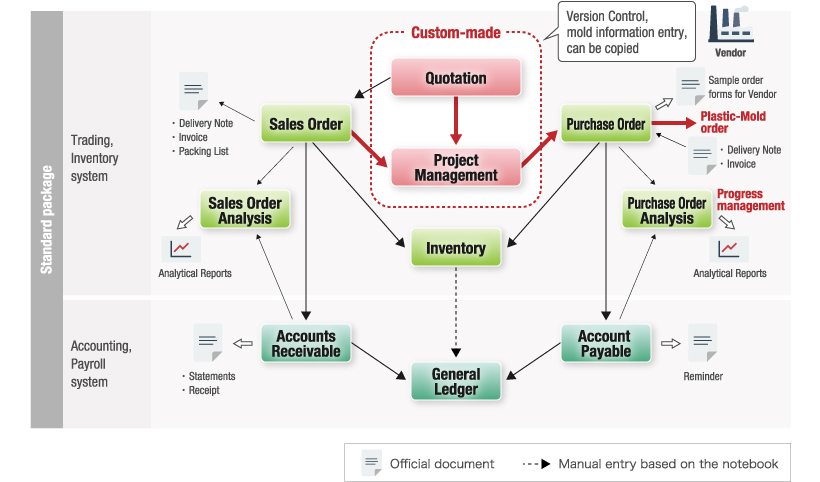 Implementation Flowchart

Around 8 months until Live Run